How Task Management Software Helps Chartered Accountant Firms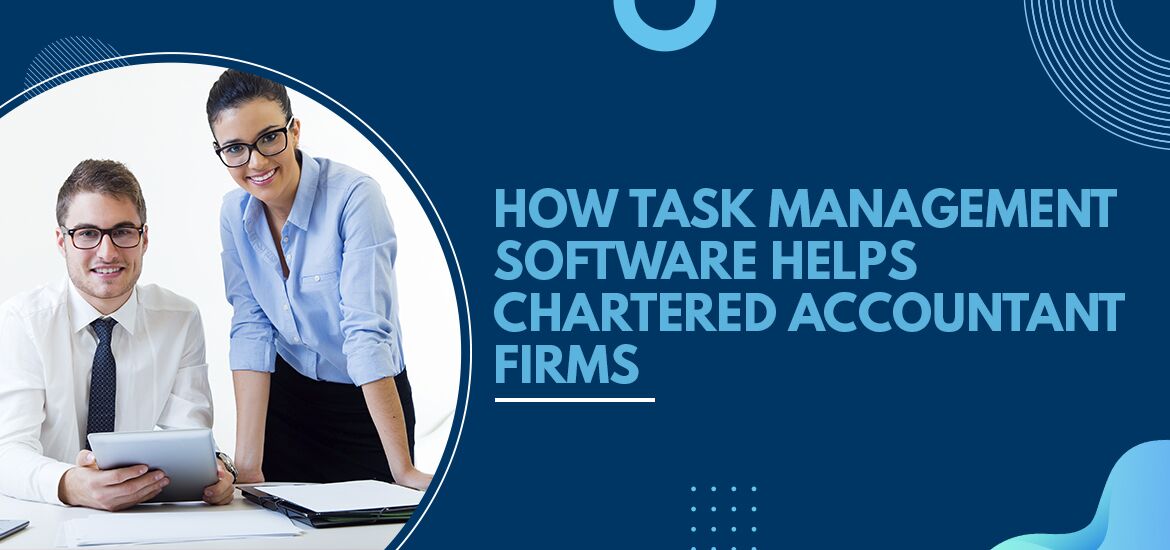 How Task Management Software Helps Chartered Accountant Firms
Efficiency and accuracy are essential for chartered accountants to complete all tasks on time and in the right way. As a practicing chartered accountant, you need to set all the possible facilities and infrastructure in your firm to meet these objectives. However, still, there is a possibility of missing tasks without adding robust task management software for chartered accountants in the system.
In this blog, we are going to see how a task management tool plays a vital role in completing all the tasks properly within the given deadline. But, before digging deep into this topic, let's jot down the top task management tips for accounting professionals. We will also see how a team task management tool can help in
Top Task Management Tips for Chartered Accountants
1. List all the Tasks
First things first. You need to make a list of all your tasks across various projects. Traditionally, people used handwritten notes and to-do lists for making a list of things to get done. Today, advanced task management tools have started replacing to-do lists and excel sheets. These tools provide smart techniques to make a list and get notifications in real-time. It is easier to save and share ideas and tasks in task management software than simple to-do lists or sheets.
2. Prioritize Tasks
Prioritizing tasks on a daily basis is essential for every firm to manage the project. However, it is difficult to prioritize tasks using a to-do list. Also, you may not jot down and share some great ideas to accomplish important tasks on time. Therefore, you need dedicated task management software for chartered accountants. It can assist you to prioritize and delegate tasks as per the resource availability and skills of employees.
3. Break Tasks
Big and complicated tasks need to be broken into smaller tasks for effective and timely execution. However, with traditional tools, chartered accountants find it difficult to divide bigger tasks into more manageable ones. A robust and feature-rich task management app is useful for it. You can easily break tasks and share them with the team using the app.
4. Delegate Tasks
Proper delegation of tasks is important, but it takes a lot of time as you need to consider various aspects including resource availability, previous records of team members, skills, and the like. Here, a task management tool can help. It not only enables you to delegate tasks effectively but also assists you to set notifications and reminders for team members.
One of the biggest benefits of task management software is tracking the progress of tasks of all team members. Simply put, the task management tool for chartered accountants keeps all employees on the same page. Another advantage is instant data sharing among team members. What's more, it is possible to share necessary information across different departments as and when necessary. Following are other major benefits of the team task management tool for chartered accountants.
Also Read- Top Challenges and Benefits of Project Management for Accounting Firms
Top Benefits of Task Management Software for CA Firms
1. Efficient Data Management
Data thrives various sectors and firms, and the CA firm is also no exception! You can ensure accuracy, availability, and accessibility of data every time with the help of a task management app. Robust task management software for chartered accountants can store the relevant data securely for seamless access anytime.
2. Clear and Instant Communication
Most task management tool have a built-in instant chat feature. It enables CA firms to communicate with clients anytime and from anywhere. As the CA firm has to perform varieties of activities, it is necessary for them to ensure clear and effective communication with clients. Project management software can make it possible for practicing accountants.
3. Better Collaboration
Collaboration is a key to success for successful project completion. Collaboration on tasks or a project is essential to ensure proper and timely execution. Cloud-based data storage and other features of the project management software can assist teams in the CA firms to collaborate remotely or in the office for various tasks.
4. Real-time Reporting
Most task management applications have interactive dashboards. Project managers can easily track all the project-related activities of team members. Also, it is possible to get reports about the project status, history, and other necessary aspects. The task management software has various filters that can enable CA firms to get the reports for specific tasks and dates. As a result, you can make quick decisions whenever is necessary.
5. Better Resource Management
At times, a few of your team members are overburdened and the rest are available to take new tasks. A task management app can handle this situation efficiently while bringing clarity in roles. What's more, as the task management software for chartered accountants can handle operational areas of work, you can make the most of the human potential. As a result, your firm can get the benefit of better resource management.
6. High Productivity
Automation and real-time monitoring of tasks can increase productivity significantly. A task management app can handle operational activities in a better way while defining the accountability of team members for all the tasks. As a result, CA firms can increase overall productivity over the period.
As a feature-rich task management software, TaskOPad is useful for chartered accountants to manage tasks and complete projects on time. With this, TaskOPad is also useful for SMBs in different sectors including legal, event management, healthcare, and accounting. Do you want to participate in our webinar on managing teams, increasing productivity, and improving workflow? Simply register yourself or drop us a line at info@taskopad.com to know more.